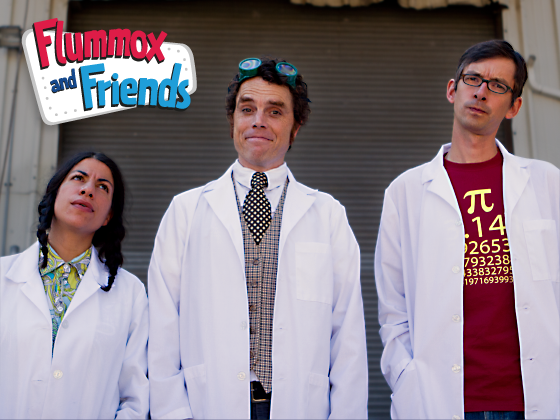 Fuzzy and pals are coming to life in animated form! Their first cartoon short will appear in the pilot episode of the TV show
Flummox and Friends
.
Flummox and Friends
is an offbeat, live-action comedy designed to help kids navigate the social and emotional world. Viewers will join Professor Gideon T. Flummox and his friends as they put their minds to work creating inventions that help them understand the most perplexing scientific mystery of all: other people! Inspired by
Pee Wee's Playhouse
,
The Big Bang Theory
, and the original
Electric Company
,
Flummox and Friends
lets families talk about social and emotional challenges as they watch and laugh together.
The show is targeted to elementary school age children who are struggling socially or emotionally, with or without a diagnosis of autism or a related condition. A key difference of
Flummox and Friends
from typical children's educational programming is its message of acceptance of the kids who watch, with no expectation that they need to change who they are. The pilot episode was recently filmed thanks to a successful
Kickstarter fundraising campaign
. The creators hope to produce more episodes and bring the show to the air in many potential outlets, including cable TV, online, and DVD.
I'm thrilled to be working with
Flummox and Friends
! It was a natural fit, given that we both mix a quirky sense of humor with information that respects the intelligence of all ages. It reminds me of some of my favorite shows growing up, and I know it will be well-received by children on the spectrum and their families.
"We're so excited that Matt will be contributing his talents to the
Flummox and Friends
pilot!" says Executive Producer Christa Dahlstrom. "Matt's characters and illustrations are a perfect compliment to the live action story line of our show and representative of the eclectic mix of music and animation we hope to incorporate in every episode."
Stay tuned for further updates as we start work on this awesome project, and be on the lookout for the
Flummox and Friends
pilot! Until then, enjoy this video preview: